Protest against rehab centre near school in Trowbridge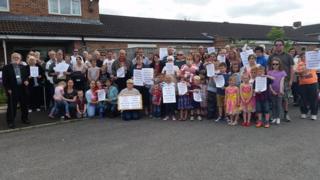 A demonstration has been held in protest at plans to open a drug and alcohol recovery centre next to a school in Trowbridge.
Charity Julian House has been awarded a contract to run the service which will be funded by Wiltshire Council.
The former Elizabeth Lodge care home situated by Clarendon Academy has been earmarked as the location for the facility.
About 80 people with placards took part in the protest outside the building.
Clarendon Academy head teacher Mark Stenton said it would be a "very unwise decision" for Julian House to look to house its facility in that location.
He said: "It is right next to our school gate and it is also within minutes of two primary schools, so there are hundreds of children walking in that area.
"We think Julian House and the local authority need to reconsider the use of that building for the intended purpose."
"Dealers hanging around"
Derek Adams of the College Estate Residents Association said he is concerned about the "long-term possible damage" to schoolchildren.
"The problem with it is you get the dealers hanging around," he said. "Do you want your child walking past somebody out here high or drunk and kicking over needles?"
A Julian House spokesman said: "We will do everything in our power to make the service a safe one, which delivers positive outcomes, without disruption or risk to any of our neighbours."
He added that the process of purchasing Elizabeth Lodge is "far from completed".