Salisbury Cathedral spire peregrine falcon chicks ringed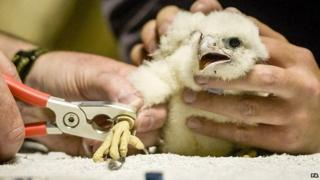 Four peregrine falcon chicks that hatched on Britain's tallest spire, have been ringed by wildlife experts.
The young brood are the second chicks in more than 60 years to hatch in a nesting box halfway up Salisbury Cathedral's 403ft (123m) spire.
Each 18-day-old chick was removed from the nest, weighed, measured and ringed by ornithologist Ed Drewitt.
The birds - two boys and two girls - are expected to fledge in the next three weeks.
The Wiltshire cathedral is "the ancestral home of the 'urban' peregrine" with records dating from the mid-1800s, according to the RSPB.
But up until last year, when three falcon chicks successfully fledged from a newly installed nest box, there had been no recordings since 1953.
"I noticed in 2004, peregrines roosting on the spire over the winter and then disappearing in March," said Phil Sheldrake, RSPB conservation officer.
"So possibly the birds were here but they didn't have a suitable nest site - that's what was lacking."
In mid-May, the cathedral announced four more chicks had hatched in the lofty 225ft-high (68m) nest box.
Named Tony, George, Kate and Justice, the young birds of prey are expected to leave the nest in the next month.
"We're beginning to find out about the movements of these birds and how they're beginning to spread across the UK," said Mr Drewitt, from the British Trust for Ornithology.
"So the idea of these colour rings is that they can be spotted from a distance by members of the public or bird watchers and we can find out about these birds, once they leave the nest."