Great Western Hospital 'staff shortage' ahead of 24/7 move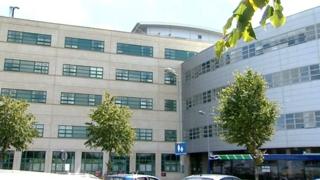 A hospital planning to increase the opening hours at a children's unit has said it is struggling to recruit specialist staff.
Bosses want to open the Paediatric Emergency Department at Swindon's Great Western Hospital (GWH) 24 hours a day in the next couple of months.
It is currently open from 09:00 to 21:00.
GWH said plans were in place to recruit more staff, while training existing emergency staff to work with children.
Annett Baskerville, the unit's clinical matron, admitted it had been difficult finding new staff members.
'Nurse shortage'
"We've looked internationally, we've looked in our area, [and] we've had an open day for recruitment," she added.
"Unfortunately, nationally, there is a shortage of paediatric trained nurses.
"So to support that, we are going to get in emergency department nurses and then we are going to upscale them and send them off on to courses that will support their clinical knowledge."
Ms Baskerville said the hospital was able to staff the department during its currently operational hours but needed five extra full-time nurses for the proposed 24/7 structure.
"We've got specialised nurses that can support it seven days a week, 9am to 9pm, but now we want to open it 24/7 and we've been looking very closely at how we can safely do that," she added.
"We've got to have the skill-set in place and that's what we're working towards. [Over] the next couple of months we'll be able to support that."
Oonagh Fitzgerald, director of human resources at the GWH, said the hospital had designed a training programme - called Adult to Child Nursing - to support in the development of staff competencies.