South Wiltshire UTC college opens to students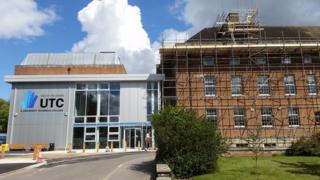 A new university technical college (UTC) in Salisbury has opened for its first intake of students.
South Wiltshire UTC specialises in teaching science, engineering and computing.
The former police station was refurbished at a cost of £8m and will house 600 students and 45 teachers.
Principal Gordon Aitken said: "What we're looking to do is replicate the sort of manufacturing space you would get in a realistic work environment."
The first intake will include 200 students from years 10 (15-16 years old) and 12 (17-18 years old).
They will will be taught to use equipment including 3-D printers, computer-aided design programs and electronics and science research labs.
Mr Aitken said: "There are three labs that have been designed in conjunction with Public Health England and with the University of Southampton to give students a feel for what a research lab would be like.
"They will get used to behaviour that will make them safe for when they go to work in an industrial lab."