Salisbury Cathedral flower festival marks Magna Carta anniversary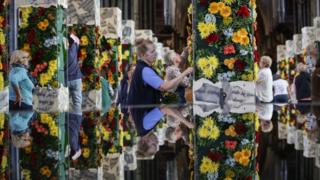 A flower festival commemorating 800 years since the Magna Carta was signed is being held at Salisbury Cathedral.
The Magna Flora display features more than 30,000 blooms prepared by about 500 flower arrangers, including many from the local diocese.
A tribute to the Queen's reign as longest serving monarch and a panel depicting the 25 barons of Runnymede are included in the floral showcase.
The festival is due to run at the cathedral from Tuesday until Sunday.
It has been masterminded by internationally-renowned floral judge and 2009 Chelsea Gold medallist Michael Bowyer, with Pam Lewis and Angela Turner.
He said: "This year's festival is the biggest yet. Big in ambition and big in form. It's not called Magna Flora for nothing.
"The planning has been on-going for about a year and for the last two months we have been running workshops with flower arranging clubs all over the country, creating the basic infrastructure for the exhibits."
Salisbury Cathedral's Magna Carta is the best preserved of only four surviving original exemplars and it is displayed in the Chapter House.
The other three 1215 Magna Cartas are held at The British Library and Lincoln Castle.