Swindon UTC viability doubts after 'low' pupil rolls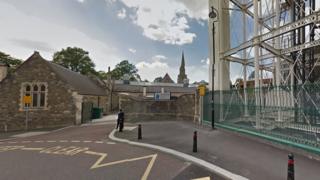 The viability of a flagship college in Swindon has been questioned by Labour politicians after the college was 28% full in its first year.
Labour councillors in Swindon have also discovered a number of those pupils received suspensions in 2014.
Swindon University Technical College (UTC) opened last September at a cost £10m under the coalition government.
The principal said some pupils struggled with the work ethic but the college would be at capacity by 2019.
Several UTCs were set up across the country to bring 14-18 year olds closer to industry.
'Drastic change'
The Freedom of Information (FOI) request was made by the Labour group at the Conservative-run Swindon Borough Council.
For 2014, the FOI found the college opened two year groups with 27 and 59 pupils attending in years 10 and 11 respectively, out of an overall target of 300 places.
Out of that figure, 23 received a fixed-term exclusion lasting between one and five days.
Principal Angela Barker-Dench said this included four permanent exclusions and five going to "alternative provision".
Labour councillor Carol Shelley said: "They are having a problem with their behaviour there and they may be having a problem with their attendance."
Now in its second year, the college currently has four year groups with 162 pupils attending out of an overall target capacity of 600.
Ms Shelley said "something would have to drastically change" to get the college to full capacity.
Ms Barker-Dench said: "We operate a curriculum from 8.30 in the morning to 5pm and we're preparing young people with the skills to go into the workforce.
"This means we expect their behaviour to be as it would be in the workplace and that's quite a challenge for young people," she said.
She said that currently the college was at 75% capacity for Year 10 and expected 140 places to be taken up out of the 150 places available in 2016.