Caen Hill Locks: Collapsed canal towpath resurfacing begin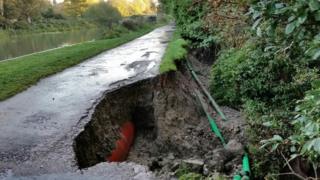 Resurfacing work on a newly-repaired canal towpath that washed away after vandals left a lock gate open has begun.
An embankment near the famous Caen Hill Locks on the Kennet and Avon Canal collapsed and damaged sections of the towpath in October.
The 700m (765 yards) stretch of towpath near Devizes in Wiltshire has undergone repairs, and a £180,000 project will now see it resurfaced.
The Canal and River Trust said it will improve the path for all-weather use.
Waterway manager Mark Evans said: "The damage caused to Caen Hill was really disheartening, so it's fantastic this project will get the towpath here in an even better condition than it was before.
"The canal gets huge numbers of visitors all year round, and this project will make a real difference to everyone coming to enjoy it."
The project is expected to take eight weeks to complete, with diversions in place for cyclists and pedestrians.