Sextant used in Titanic rescue sells for £66,000 at auction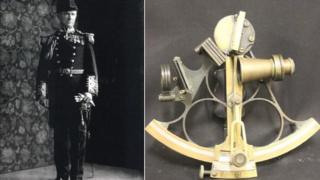 A sextant used at sea in the race to rescue survivors of the Titanic has sold at auction for £66,000.
The navigation instrument, owned by the family of the captain of RMS Carpathia Sir Arthur Rostron, was sold at Henry Aldridge & Son in Devizes, Wiltshire.
Sir Arthur's prompt response to the Titanic's distress signal in April 1912 saved more than 700 lives.
Sextants were widely used at the time used to measure the angle between a celestial object and the horizon.
Sir Arthur's great-granddaughter, Janet Rostron, said: "The sextant has never been on public display before and has been kept within the Rostron family, passed down from father to son for the last 104 years.
"Once Sir Arthur retired, the sextant was passed on to his son Harry and then on to my father."
A letter from the Titanic also sold for £60,000 in the auction.