White horse re-whitened for Queen's 90th birthday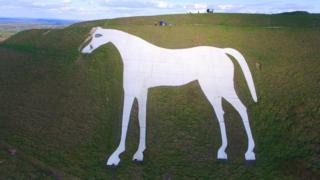 The whiteness of a giant hillside horse in Wiltshire has been restored as part of celebrations for the Queen's 90th birthday.
Algae and lichen had discoloured Westbury's 175ft (53m) figure, which is carved into a steep slope, since it was last steam cleaned in 2012.
It took the whole weekend for a group of volunteers and abseilers to power wash the horse.
The restoration project was organised by the Westbury Rotary Club.
Westbury's horse was restored in 1778 but many believe it is far older than that, making it the oldest in Wiltshire.
It is thought to have been originally carved in AD878 to commemorate King Alfred's victory over the Danes at the Battle of Ethandune.