Stuck lorry causes travel chaos in Marlborough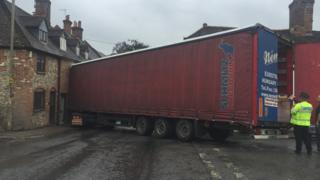 A lorry caused three-mile tailbacks after it became wedged against a house while attempting to turn a corner.
The vehicle got stuck, blocking access to Herd Street, Marlborough, Wiltshire, at about 16:50 BST.
Drivers had faced long delays when the road into the market town was closed, but the lorry has since been moved.
PC Keith Larkworthy, said: "We tried to get the lorry down the hill but it became wedged in the middle of the road blocking access into Marlborough."
For more on this and other stories visit BBC West Live
PC Larkworthy said the goods vehicle had "lost traction" on The Green as it was heading out of town - narrowly missing the house - and had been reversed back "blocking in vehicles".
"Apparently the foreign driver's using sat-nav which can take them into some awkward situations where they get stuck, so it's probably not his fault," he said.