Dog's mouth glued together after chewing flyer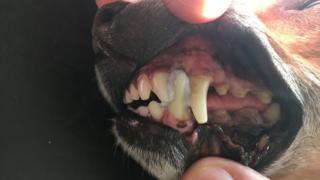 A dog was left in a sticky situation when its mouth was glued shut after chewing on a leaflet that arrived in the post.
Finlay, aged seven, had to be rushed to the vets for emergency treatment after he was unable to open its mouth.
The Jack Russell was sedated and vets spent 45 minutes removing the "rock hard" paste encasing the dog's teeth.
Vets director Scott Carpenter said: "It was glued shut, you could not open it. I've never seen anything like it."
According to Estcourt Vets in Devizes, the glossy paper had reacted with the terrier's saliva forming a "strong glue" which had "sealed Finlay's mouth completely shut".
'Set very quickly'
"Luckily, the owner saw the dog playing with some of the post and chewing on a flyer and called us," Mr Carpenter said.
"His mouth was clamped shut and when we opened it we could see his left hand canine teeth were stuck together with a white pale glue."
After giving the dog a general anaesthetic, Mr Carpenter said they were able to soften the hard set glue with warm water and butter.
He said: "It took us about 45 minutes to soften it and lever the teeth apart and inside his mouth was wet paper - which hadn't gone hard - so it must have set very quickly.
"The owner's now going to buy a letter box cage for little Finlay as I'm not sure he's learnt his lesson or associated the two things."