Swindon women stabbed and punched in as burglars ransack flat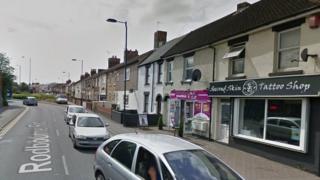 A woman and her daughter have been punched and stabbed by two burglars who broke into a flat demanding money.
The break-in happened at 23:00 GMT on Friday at a flat in Rodbourne Road, Swindon, while a 52-year-old woman was alone in her flat for a short time.
She was pinned down, threatened and stabbed in the arm and thigh while they ransacked the flat looking for money.
Her daughter was punched in the face by one of the fleeing burglars when she returned to the flat minutes later.
Det Sgt Scott Anger of Swindon CID said: "This was a traumatic and violent experience for both the mother and her daughter.
"I am seeking the public's help to find these two men who subjected the older woman to a frightening attack."
The men broke in by smashing through the glass front door. They ripped wardrobe doors off their hinges and slashed the sofa.
They escaped when they heard the younger woman and her partner returning to the property.
The men escaped in a black VW Passat, Wiltshire Police said.