Tribute paid to Trowbridge murder victim Jordan Taylor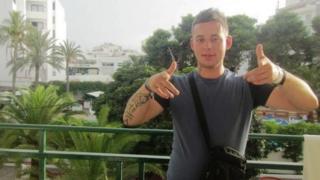 The family of a 25-year-old man who was murdered in Trowbridge, in Wiltshire on Sunday have paid tribute to him.
Jordan Taylor, from Hilperton, died from stab wounds after he and a friend were attacked by a man near Trowbridge Community Hospital.
Police want to speak to a 25 to 30-year-old white man, of large build, about 6ft (1.82m) tall, with a round, chubby face and a dark goatee beard.
In a statement, Mr Taylor's family said he had been a "loving young man".
His family said he had "loved and lived life to the full".
The statement added: "He had a heart of gold. He loved and cherished each and every friend he had; his friends were his life."
Mr Taylor died at the scene and his friend was treated for minor injuries in the car park of the hospital.
Wiltshire Police said the suspect is believed to have been wearing a green knee-length Parka-style jacket and "may have an injury to his face".