Music teacher Nathan Jones banned from profession for life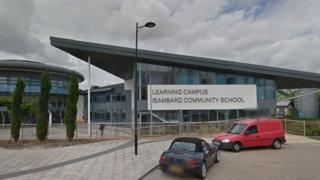 A music teacher who asked a 13-year-old girl to send an "explicit" picture of herself has been banned from teaching.
A disciplinary panel heard Nathan Jones, 34, made the request during a Skype conversation with "child A".
He was suspended from Isambard Community School, Swindon, in March 2015 and later dismissed for gross misconduct, despite resigning.
Mr Jones, who had previously asked for the case to be held in private, was not present or represented at the hearing.
The professional conduct panel of the National College for Teaching and Leadership was told that on or around 5 February 2014, he took part in a Skype session with the girl.
During this he asked her to send an image of herself, and she sent one of her wrapped in a towel.
'Insufficient evidence'
He then asked for a "more explicit" picture, before inquiring if she had a webcam "with a view to engaging in sexual activity with her on camera".
He had previously admitted his conduct was "sexually motivated".
The panel was told Mr Jones was arrested on suspicion of attempting to cause/incite a child aged 13 to 17 years old to become involved in pornography.
Following the police investigation, he was notified that no further action would be taken because there was insufficient evidence for a prosecution.
The panel said his conduct "was sexually motivated" and "amounts to both unacceptable professional conduct and conduct that may bring the profession into disrepute".
It banned him indefinitely from teaching in any school, sixth form college, relevant youth accommodation or children's home in England.
"In view of the seriousness of the allegations proved... Mr Nathan Jones shall not be entitled to apply for restoration of his eligibility to teach," it concluded.