Stonehenge tunnel 'should be reconsidered', Unesco says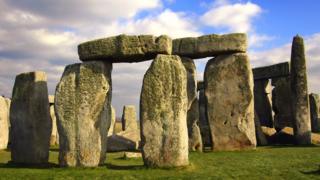 A controversial plan to build a tunnel at Stonehenge should be reconsidered, a Unesco report has recommended.
The report says a short tunnel could damage the World Heritage Site and a bypass above ground or a longer tunnel should not be ruled out.
The findings will be presented to the World Heritage Committee next month.
In January, plans for a 1.8-mile (2.9 km) dual-carriageway tunnel were finalised by Highways England, and a public consultation was launched.
Key points in the draft decision responding to the report, released ahead of the World Heritage Committee meeting, include:
The 2.9 km tunnel would cause "adverse impact" on the Outstanding Universal Value (OUV) of the site
The portals at each end of the tunnel would have visual impact, but the extent of new roads within the site is of greater concern
The potential impact of four-lane approach roads in cuttings on the landscape could fundamentally compromise the OUV
A non-tunnel bypass to the south of the site would have no impact on the OUV and warrants further consideration, even though it was ruled out prior to the public consultation
Further work should occur on longer tunnel options
The proposed position of the eastern end of the portal would have potential impact on the Blick Mead and Vespasian's Camp archaeological sites
A "scientific committee" has not yet been established
The busy A303 currently passes within a few hundred metres of the ancient monument in Wiltshire, and Highways England has said a tunnel will cut congestion and improve journey times.
In March a group of 21 archaeologists wrote to the government, claiming the proposed tunnel approach would be a "visual blemish" and ruin views of the winter solstice sunset from Stonehenge.
Previously, Historic England, English Heritage and the National Trust gave their backing to the scheme, although they said the location of the tunnel's western portal needed "significant improvement".
The results of the Highways England public consultation, which ended in March, have not yet been announced.
Historic England said it would not be able to comment until after the publication of an International Council on Monuments and Sites report, expected "in the next few days".
In welcoming Unesco's findings, Kate Fielden from the Stonehenge Alliance, said: "It means the government will have to think again about how they treat the World Heritage Site at Stonehenge.
"It isn't right to consider damaging the site forever with an inadequate road scheme."
A government spokesperson said upgrading the road "will cut congestion, improve journey times and provide a huge boost to the economy in the South West".