Wiltshire man left lifetime collection of marbles after friend killed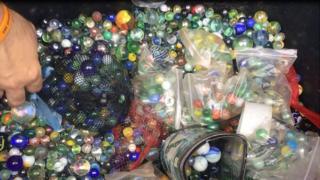 A Wiltshire man who inherited tens of thousands of marbles is trying to find a new home for the vast collection.
Paul Treacy took possession of more than 50,000 marbles after his friend Russell Nixon was killed in an alleged attack in Chippenham in May.
Mr Treacy said: "He always said he wanted it to go to a children's charity, but he was a hoarder and didn't like letting go of things."
He is now appealing for a charity or a hospice to take on the marble hoard.
The collection includes a wheelie bin and several 5ft 6in (1.7m) tubes stuffed with thousands of multi-coloured marbles.
"He had these tubes - 25 or 30 of them - all around his bungalow and these 1ft tall, large, chunky jars all over the place filled with marbles," said Mr Treacy.
"It's very hard to estimate, but I would say there is at least 50,000."
Mr Treacy said his friend turned to marble collecting "as a way of coping" with his "troubled childhood".
"He started collecting marbles, just a few hundred at a time, and over the years he just kept on collecting and collecting until it was in the tens of thousands," he said.
"Maybe a children's charity or someone could really benefit from this - then it will all be worth it as far as I'm concerned."
Mr Nixon died following an alleged assault in London Road, Chippenham, in the early hours of 10 May.
A 22-year-old has been charged with his murder and is due to appear in court again in October.