Rally opposes Wiltshire mental health beds closure plan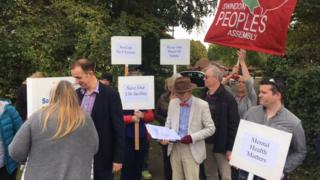 A rally has taken place in Swindon opposing plans to close beds where people going through a mental health crisis are taken for safety.
Mental health bosses want to close two one-bed places of safety suites in Salisbury and Swindon and expand Green Lane in Devizes from two beds to four.
Campaigner Samantha Wathern said: "To put someone in an appropriate place of safety would be a lifesaving thing."
The closure was paused in August and a final decision will be made next week.
A spokesman for Avon and Wiltshire Mental Health Partnership (AWP) said its position on places of safety had not changed since late August.
The trust wants to close the two suites on the grounds that they are of poor quality, staffing is inconsistent and when the units are full people sometimes have to go to police cells. Some users have told the trust they have not always received the best care there.
The board will meet on Wednesday to formally consider the outcome of a consultation.
If someone is detained under the Mental Health Act 1983, they can be taken to a place of safety such as a hospital or a police cell if nothing else is available.
"What we're concerned about is the lack of facilities in Swindon and the police nationally are under immense strain with under-funding.
"Patients will be taken inappropriately be taken to a police cell because police, during busy times, may not have the resource to give that patient the one hour and 30 minute round trip all the way to Devizes," said Ms Wathern.