'I was attacked by pack of stray dogs in Greece'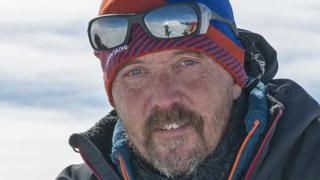 A holidaymaker suffered severe bite wounds when he was savaged by stray dogs near a tourist hotspot in Greece.
Peter Bucktrout was attacked by three dogs near to the Acropolis in Athens and fought them off using his camera.
He spoke out after Celia Hollingworth, from Bradford-on-Avon, Wiltshire, was apparently mauled to death near Maroneia on Thursday.
Mr Bucktrout believes the government should issue a warning to visiting tourists.
He was attacked by a pack of dogs while holidaying in May 2014 with his wife and 10-year-old son. He was badly bitten on his arm and legs and took some graphic photos of his injuries.
The 54-year-old, from Longstanton, Cambridgeshire, was walking around taking photos of the Acropolis while his wife and son went to a restaurant to get a drink.
Mr Bucktrout described walking along a footpath no more than 50ft (15m) away from a tourist coach stop when three dogs came rushing out from some nearby woods.
"I heard a bark and the large dog was on me before I realised what was happening," he said.
"It jumped at me and locked on to my arm, and the two smaller ones grabbed hold of my ankles."
Mr Bucktrout said he was thrown back and used his camera to hit the larger dog on the head to get it to release his arm.
"Then, thank God, they let go and there was a bit of a stand off. it all happened so fast. I shouted at them and they stepped back then ran off," he said.
"I just wanted to get the hell out of there and make sure the dogs weren't following. I just ran out of there."
He said he struggled to walk as there was "blood in my flip-flops" and his feet were "sliding all over the place".
He made his way to the restaurant where his wife and son were and staff there treated his bite wounds.
"It was very clear at the time, that the restaurant, the ambulance men who collected me and the hospital staff in Athens were all very used to treating dog bites."
He said despite receiving deep bite marks to his arm and ankles, which caused "a lot of blood", his injuries "looked worse than they were".
Mr Bucktrout said he just kept telling himself how lucky it was that his son was not with him when he was attacked, as the dogs "would have treated him like a rag doll".
The experience was so traumatic that he flew straight home and was admitted to an isolation ward at his local hospital. He spent several days having his wounds treated and being given antibiotics to reduce infection.
Mr Bucktrout said when he contacted the consular section of the British Embassy in Athens it was "extremely helpful" and passed him to authorities in Athens which deal with stray dogs.
However he did not receive a response to any of the correspondence he sent detailing his attack.
Mr Bucktrout added he was "absolutely shocked and saddened" to hear of Celia Hollingworth's death and believed the government should issue a warning to visitors.
"The authorities told me they are picking up people with dog bites all the time. My hotel told me that the police do not record dog attacks because they are so common.
"They need to do something to get rid of the street dogs. It's a real problem."
Animal charities say there are now more than one million stray cats and dogs on the loose in Greece.
They think the country's financial problems are to blame, as the animals' owners can no longer afford to take care of them.