Missing Brit 'probably' attacked by wolves not dogs in Greece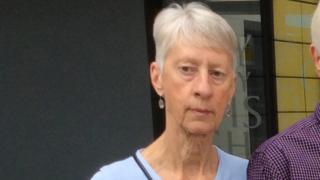 Wolves were "probably" responsible for the "ferocious" attack on a British woman whose remains were found in northern Greece, a coroner has said.
Celia Hollingworth, from Bradford-on-Avon, Wiltshire was reported missing last Thursday after visiting an archaeological site near Maroneia.
Coroner Nikolaos Kifinidis heard that dogs or jackals could not have inflicted the bites found on her.
Tests on hairs found at the scene are under way, to identify the animal.
A final report from the coroner is due to be completed in four to six weeks.
The recently retired University of Bristol staff member took a taxi to a local archaeological site last Thursday.
It is thought she tried to walk back along a coastal path when she was attacked. Her body was found on Friday.
BBC Athens producer Kostas Kallergis, said a veterinarian expert concluded the bites could not have been made by "dogs or jackals".
"This is not the final report, it's [the coroner's] first conclusions from the initial examination," he said.
"The final report will be ready once lab tests on the hair are done."
He added wolf attacks in remote mountainous areas had happened in the past but "usually on sheep or other animals - rarely against humans".
'Shy creatures'
On the Facebook group Brits in Greece, one person said a wolf attack was a "more convenient story" for authorities wanting to side step responsibility.
Another user, who has lived in areas of Greece where "wolves were common", said locals had told her they were "very shy creatures".
"Only when desperate would they come down to the town to rummage through bins," she wrote.
Another resident commented: "The dogs that live semi feral in the hills supposedly guarding sheep or goats can be quite aggressive. I always take stones and a stick if I'm walking."