Jamie Mines: Firm fined £80,000 for electric shock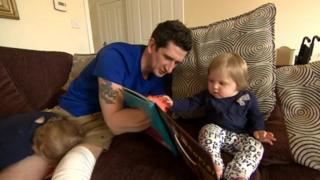 A firm has been fined £80,000 for a "careless" health and safety oversight which led to an employee losing his leg, hands and a foot.
Jamie Mines, 33, received an electric shock at Swindon's Kendrick Industrial Estate in December.
His firm, Boundary Scaffolding Ltd, was fined, and its director Jonathan Griffiths-Clack handed a six-month sentence suspended for 12 months.
Both admitted health and safety breaches at Swindon Magistrates' Court.
'Out of character'
Mr Mines had been fixing a metal sheet to a storage shed roof when he came too close to overhead power lines and 33,000 volts passed through his body.
The exclusion zone around the cables was 3m (10ft), but Mr Mines was working at 2.77m (approx 9ft) away from it when the sheet of metal arced over and hit the cables.
Mr Mines was placed in an induced coma and missed his first Christmas with his five-month-old twins Isabella and Savannah.
He returned home but had to be readmitted to hospital to have his left foot amputated after it became severely infected.
During sentencing, the judge described the incident as "single, isolated and out of character".
Despite the oversight, he said, the company did have health and safety guidelines in place generally.
Griffiths-Clack, of Grosmont Drive, Swindon, who pleaded guilty to breaches of two sections of the Act, was also ordered to repay costs of £1,545.
Boundary Scaffolding Ltd, which admitted breaching the Health and Safety at Work Act, was also ordered to pay costs of £1,415.