Emile Cilliers trial: 'Tangled parachute' pictures shown to jury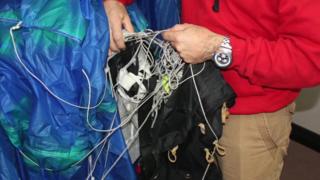 Jurors have been shown pictures of a parachute supposedly sabotaged by the husband of a woman who survived a 4,000ft fall.
Victoria Cilliers, 40, suffered multiple serious injuries at Netheravon Airfield, Wiltshire, on April 5 2015.
Emile Cilliers, 37, denies attempting to murder her.
Army Parachute Association chief instructor Mark Bayada told Winchester Crown Court he had "never seen the lines of a main chute so tangled".
Mr Bayada, who is based at the Netheravon airfield, told the jury he had also looked at the reserve chute and "noticed that ties, known as slinks, were missing".
The prosecution claim Mr Cilliers "sabotaged" his wife's parachute by "deliberately tangling the main chute and removing two slinks".
Both Mr and Mrs Cilliers have been described as "expert parachute jumpers" and the court heard "he wanted her dead so he could benefit from her life insurance policy and because he was having an affair with another woman".
When Victoria Cilliers made the jump both her main and reserve chute failed to fully open.
Prosecutors argue Mr Cilliers kept the "tampered parachute in his locker one day because of bad weather" when he should have handed it back in.
But under cross-examination from the defence, Mr Bayada admitted other parachutists also kept their rigs in their lockers at Netheravon, and that to have done so "might not have been unusual".
The jury was also told Mr Cilliers had tried to kill his wife a few days earlier in their kitchen - the prosecution said he had "tampered with a gas fixture".
Mr Cilliers denies two charges of attempted murder and one count of damaging a gas valve at their home in Amesbury, Wiltshire.
The trial continues.