Parachute trial: Wife 'asked did you try to bump me off?'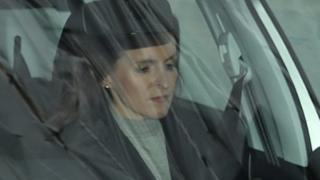 The wife of an Army sergeant accused of tampering with her parachute told police she asked her husband "did you try to bump me off?", a court heard.
Victoria Cilliers also told officers the skydive in which she suffered multiple injuries in a 4,000ft fall in April 2015 would be her last.
Emile Cilliers, 37, denies attempting to murder his former Army officer wife,
Appearing at Winchester Crown Court, he also denies damaging a gas valve, recklessly endangering life.
The jury was shown a number of police interviews, during one of which Mrs Cilliers, 40, said she sent the "tongue in cheek" remark in a text message to her husband, following the gas leak at their home.
'Gunning for husband'
In a later interview, Mrs Cilliers told officers she had been angry after discovering her husband was having an affair.
She said the "red mist came down" and she "was gunning for [her husband] in the interview" and wanted to paint a "bad picture" of him in her testimony.
However, when asked by a detective if anything she had said was untrue, she said: "I don't think I lied".
Mrs Cilliers also said that before her near-fatal fall at Netheravon Airfield, in Wiltshire, the parachute jump "probably was going to be my last jump".
The Army fitness instructor told detectives going back to skydiving after becoming a mother was a "mental battle" and she had "lost confidence".
Prosecutors allege Mr Cilliers twisted the lines of his wife's main parachute and removed two slinks - which attach lines to the harness from a reserve chute - the day before her jump.
During the police interviews, Mrs Cilliers added she "could not categorically say" the main parachute was malfunctioning.
She said she agreed with others when they suggested the reason the main parachute failed was as a result of the lines being twisted during packing, because she was "embarrassed".
"I was quite embarrassed to admit I potentially cut away a reasonable parachute, but I just completely lost confidence," she told the interviewing officers.
'Wanted revenge'
Mrs Cilliers was questioned in court by the prosecution over evidence she gave to police in one interview shortly after the parachute jump.
She said she found it "odd" her husband had taken her hire parachute kit into the toilet at the airfield the day before, but admitted giving police differing accounts of his actions because she wanted "revenge" and to "cast suspicion" on him after discovering his affair.
She told officers he had been with the parachute for "five-10 minutes", and told the court: "I expanded on a truth but I knew potentially that was a key point that was going to get him into some hot water.
"At that point, I wanted him to suffer."
Mrs Cilliers only just survived the fall during which she suffered broken vertebrae, ribs and pelvis.
Mr Cilliers denies two counts of attempted murder and one of criminal damage recklessly endangering life.
The trial continues.