Parachute trial: Husband 'would never ever' harm wife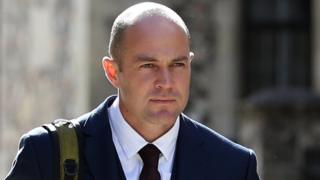 An Army instructor accused of trying to murder his wife told police he would "never, ever" try to harm her, a court has heard.
Former Army officer Victoria Cilliers suffered multiple injuries in 2015 when her parachute failed to open and she fell 4,000ft (1,200m).
Emile Cilliers is accused of tampering with the equipment to cause her death.
But in statements given to police in September last year, Mr Cilliers said he loved his wife and children.
During a police interview, a transcript of which was read out at Winchester Crown Court, Mr Cilliers was asked: "Did you try to kill your wife?"
He replied: "No."
He was then asked: "Did you try to kill your children?"
He again replied: "No."
The jury has already heard that Mr Cilliers had been having an affair with another woman in the months before the parachute failed during a jump over Netheravon airfield in Wiltshire.
Mr Cilliers is also accused of trying to murder his wife a week before the fall by tampering with a gas fixture at their home in Amesbury.
In his interview, Mr Cilliers said traces of his blood found on the fixture may have been from when he tried to fix it.
He said he tried to release a nut on the pipe, but could not manage it.
He denies two counts of attempted murder and one of recklessly endangering life.
The trial continues.