HMP Erlestoke: Tobacco 'twice as much as Spice' report finds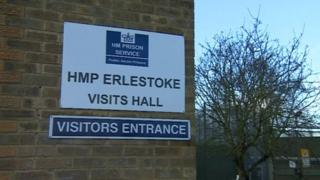 Prisoners can buy the drug Spice at half the price of ­tobacco after a smoking ban in jail, a report says.
The ban along with drug availability at HMP Erlestoke has fuelled a sense of "hopelessness" among inmates, an HM Inspectorate of Prisons (HMIP) found.
It said the use of the synthetic cannabis substitute had resulted in "frequent medical emergencies, some very serious" at the Wiltshire jail.
The Prison Service said the governor was working to "address this issue".
The HMIP report into the Category C training jail, which accommodates around 500 men, was carried out in June and July.
It found "clear evidence" of the widespread use of alcohol and drugs.
Watch: 'Spice drug paralysing prison system'
Inmates polled by inspectors said the "price of Spice was around half of that for illicit tobacco" which had "encouraged more Spice use"
Prisoners reported it was "difficult to maintain recovery" when so many others were "regularly under the influence of Spice" resulting in a "widespread sense of hopelessness".
The HMIP report also found prisoners were smoking the cannabis substitute "without diluting it with tobacco" resulting in "frequent medical emergencies".
It added prisoner self-harming had also doubled since the last inspection in 2013, and the number of reported violent incidents had gone up.
'Significant drug problem'
Chief inspector of prisons Peter Clarke said safety in the prison was "not good enough".
"Much of the violence and bullying that did exist was, in our view, linked to a significant drug problem, and yet the prison lacked an effective drug strategy."
Michael Spurr, from HM Prison and Probation Service, said the "supply and use of illicit psychoactive drugs" had "undermined safety in the prison".
"The governor is working with partners including the police, and treatment agencies, to address this issue as a priority," he said.