Fake Fingerling warning after razor blade find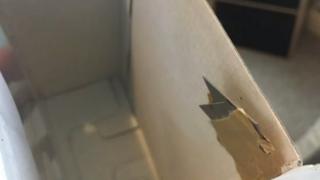 A mum who ordered a must-have Christmas toy from eBay found razor blades taped inside the packaging.
Leanne Anger, from Swindon, ordered a Fingerling puppet for daughter Lila after failing to find one in the shops.
When the delivery arrived, she doubted the item was genuine so checked inside, finding the blades and "some specks of blood".
The auction website advised Mrs Anger to contact police and said it takes customer safety "very seriously".
Wiltshire Police said it has handed the case to another force.
Mrs Anger found a listing for the popular toy - described as an interactive finger puppet - being offered for less than the recommended price.
'Specks of blood'
She said the item arrived in a "flimsy cardboard box".
"I had suspicions as soon as I opened the bag that it wasn't going to be a real one," she said.
"I'm just thankful that I checked. I know some people would just put the boxes away, wrap them up for Christmas, and potentially the first person to open it is going to be a small child."
Mrs Anger said she contacted the seller, who claimed it had probably happened by accident during packaging. She was offered a partial refund, which she refused.
A spokeswoman for eBay said: "We will always investigate matters of this nature and while the transaction is between the buyer and seller, we will make sure the customer receives a full refund on this occasion."
Wiltshire Police said its Action Fraud team has passed the information on to the force where the seller is based.
Meanwhile, she said she won't be giving the toy to six-year-old Lila.