Swindon boy gets bravery award after mum's crash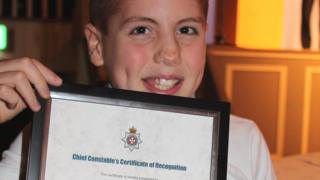 A "courageous" 10-year-old boy who helped prevent a serious accident when his mother blacked out behind the wheel of a car has received a police award.
Louie Dean, from Swindon, was being driven home by his diabetic mum when she passed out and crashed the car.
The schoolboy calmly directed emergency services to their location, and tried to flag down passing motorists, while he waited for officers to arrive.
His mother Kate said her "amazing" son had "saved my life basically that day".
Louie, who was nine years old at the time, was on his way home last March when his mother became unwell.
"I thought there was something going on," he said.
"She was meant to go right but she kept carrying on and she crashed into a pole and it was really scary."
With his mother too incoherent to speak to the emergency services, Louie took over the call and was able to clearly state where he was and what he thought had happened
"He waited 20 minutes before the ambulance arrived and he was on his own and he tried to flag down some motorists as well, so he was very brave," she said.
"I still get emotional, to think he saved my life basically that day."
At an event on Tuesday night, he was awarded the chief constable's certificate of recognition for his "composure, initiative and brave actions".
Chief Constable Mike Veale, from Wiltshire Police, said: "I am continually impressed by every single person who attends these awards, in particular 10-year-old Louie Dean - my new best mate - the young lad whose courageous actions saved the life of his mum.
"It's young people like Louie, as well as all of these recipients, who make this world a better place."