Watchdog to probe retirement terms of Bath vice-chancellor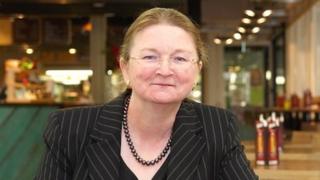 The retirement terms of UK's highest paid vice-chancellor are being investigated by a watchdog.
Prof Dame Glynis Breakwell announced she was resigning from the University of Bath two weeks ago after a row over her salary of £468,000.
Higher Education Funding Council for England (HEFCE) said it was sent a letter by a Labour councillor asking it to look into "governance issues".
The chair of the university's council said the complaint has "no substance".
Dame Glynis is due to step down at the end of the summer term, following intense criticism over the university's handling of senior staff pay.
She will then take a stabbatical on full pay before formally retiring in February 2019 when a car loan worth £31,500 will be written off.
'Refute the allegations'
The HEFCE said it had received a letter from councillor Joe Rayment asking it to "look into governance issues" concerning the university's retirement terms.
Mr Rayment, a Bath and North East Somerset Council member, has been outspoken about his concerns with senior leaders' pay at Bath University.
In a statement the HEFCE said it was "dealing with councillor Rayment's letter" in line with its public interest disclosure process.
"We are making initial enquiries and have written to the University of Bath in this connection," it said.
Thomas Sheppard, chair of the university's council, said he was "aware" the HEFCE had received a complaint.
The council is the governing body of the university, and holds responsibility for its finances and investments.
"I believe the complaint has no substance whatsoever and categorically refute the allegations it contains," Mr Sheppard said.
"The arrangements announced for the retirement of the vice-chancellor were agreed by the university council, in accordance with its standing orders, after informing HEFCE."
Dame Glynis is due to remain living in her university-provided accommodation in Bath until the end of August and will stay on full pay through her sabbatical.