Big improvement for 'failing' Swindon schools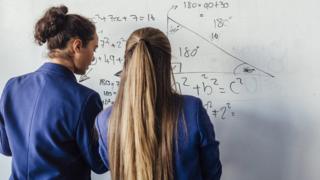 Schools in Swindon have improved after being described as "failing at every level" just over a year ago.
Ofsted director Bradley Simmons published a letter outlining his "deepening concerns" about school performance in November 2016.
Since then the percentage of secondary schools now judged "good" or "outstanding" has risen to 64% - an increase of 18%.
However GCSE results are still 7% below the national average.
In the letter sent to Swindon Borough Council, head teachers and local MPs last year, Mr Simmons said the town's children were "failed by its schools at every key stage".
In the latest report published on Wednesday, he said it had been "a privilege" to spend time in Swindon over the past year, and he was "heartened" by the work to improve outcomes.
"Indeed, the vast improvement seen are a testament to the hard work of pupils and teachers in Swindon," he added.
While primary school results have improved, with pupils now reaching their expected progress, secondary school results are still poor.
Only 35% of students achieve Grade 5 (the equivalent of a C) in English and maths, compared to a national average of 42%.