Wiltshire Council community campus plans 'abandoned'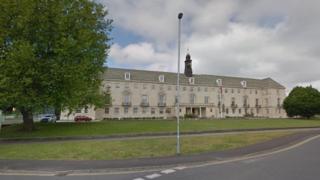 Plans to roll out 18 community campuses across Wiltshire have been "abandoned" by the county council.
Council leader Baroness Scott said last year that £80m had been earmarked for community hubs housing a range of public services and facilities.
But this week she told a cabinet meeting cuts in funding made it "impossible" to deliver all 18 and it was the "end of the campus programme".
Lib Dem group leader Ian Thorn said communities had been "badly let down".
'Undeniably unfair'
The council hoped to develop 18 community campuses, housing services from youth clubs and police to health centres and libraries.
Of the 18, three have been completed in Corsham, Tisbury and Salisbury, two are under construction and three more are going ahead following long delays.
But hopes for such campuses in Westbury, Amesbury and Warminster have been dashed.
At a cabinet meeting on Tuesday, Conservative Baroness Scott said the council has had "so much money taken from public services".
"I would have loved to have done exactly what we planned in 2010 but that was impossible and our communities understand that," she claimed.
Mr Thorn, Lib Dem leader on the council, said: "This is undeniably unfair on those towns who have not benefited from the millions of pounds that have been spent on improving facilities in other areas.
"It is now vital that the Conservative leadership makes clear what it will do for the communities who have so far been badly let down."
Wiltshire Council said the future provision of facilities "will focus on community hubs based on the successful model implemented in Calne, Devizes and Malmesbury.
"These hubs provide a wide range of services and flexible space for use by the community and commercial organisations and have evidenced a significant increase in visitor numbers and volunteers, helping to ensure that the building and services are sustainable in the future and do not rely on a subsidy from the council."