Science Museum plans Swindon storage expansion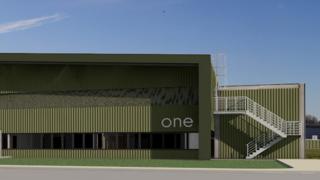 The Science Museum has submitted plans to build a new store for 340,000 of its objects near Swindon.
The 545-acre former airfield in Wroughton currently stores the museum's large objects, when they are not needed for display, in 10 hangars.
But due to the cramped conditions and "failing 1940s infrastructure" the stores are not open to the public.
The London museum said the new building would house 80% of its collection and be regularly open to the public.
The Wiltshire site was taken over by the Science Museum in the late 1970s.
Along with the airliner used for a Rolling Stones tour, the site also holds the first hovercraft, MRI scanners and deactivated nuclear missiles.
A spokesman for the museum, said: "The new facility will enable us to improve and speed up the process of preparing objects for loan to other organisations, or for display in new galleries and exhibitions across our family of museums."
Matt Moore, head of site, said: "It's fantastic to think that we are really close to transforming the site and how we manage, and access, our collection."
Plans for the new facility, which is the size of two football pitches, have been submitted to Swindon Borough Council.