Sir Edward Heath abuse claims inquiry detective retires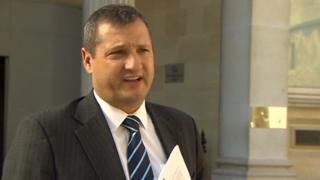 A senior detective, who led an investigation into claims of historical child abuse by ex-Prime Minister Sir Edward Heath, has retired.
Sean Memory had been signed off on sick leave from Wiltshire Police since January 2017 and was the subject of a misconduct probe.
He was being investigated in relation to a separate matter unrelated to the Sir Edward inquiry.
The police confirmed he been allowed to retire "on medical grounds".
"Clearly, it would be inappropriate for us to release any further information which relates to this decision," a spokesman added.
Police regulations allow for an officer to resign or retire when they are they subject of misconduct proceedings.
The force must be satisfied the officer is "medically unfit to continue to be the subject of proceedings".
There may also be "other exceptional circumstances" that justifies consent for someone to leave in these circumstances.
Det Supt Memory also headed a second investigation into taxi driver Christopher Halliwell, which saw him jailed for the murder of Becky Godden.
Halliwell had previously been found guilty of the murder of Sian O'Callaghan.
'No guilt inferred'
Operation Conifer - into the historical claims against Sir Edward - began in 2015 after claims were raised in an inquiry by the Independent Police Complaints Commission (IPCC).
The investigation found he would have been questioned over sex abuse claims if he was alive when they came to light.
The 100-page report stressed "no inference of guilt" should be made from the fact Sir Edward would have faced questioning.
Sir Edward died at home in Salisbury in July 2005, aged 89.