Salisbury hospital trust 'is £12.5m in debt'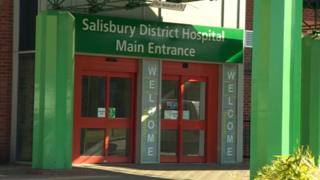 The trust that runs Salisbury District Hospital is £12.5m in debt and is therefore in breach of its NHS provider licence, a regulator has warned.
Staff at Salisbury NHS Foundation Trust were told the deficit would mean cost-cutting measures would be necessary.
NHS Improvement (NHSI) has brought in a series of measures to help the trust address its "financial challenge".
The BBC has learned savings include reducing agency staff and £500,000 will be saved by using cheaper drugs.
'Deterioration'
Other initiatives include surgeons using cheaper gloves, cheaper sutures being used for wounds and operating theatres being used more efficiently.
Staff have also been banned from using first class stamps in an attempt to save money.
Amanda Lyons, from NHSI, said: "Following deterioration in Salisbury NHS Foundation Trust's financial position last year, we launched a review to understand the causes of this deterioration and what actions the trust was taking to improve.
"While the trust has taken steps to understand why it is in the financial position it is, it does not yet have detailed financial recovery plans in place, and it was felt that additional support was needed."
Salisbury NHS Foundation Trust's chief executive, Cara Charles-Barks, said the organisation was "committed to a recovery plan".
In a letter to staff, she said the plan was "designed to put us on a stable footing within two to three years".
"We need to demonstrate month-on-month that we're delivering and building confidence in NHSI to show that we're doing what we need to be doing."
The trust provides care to about 225,000 people in Wiltshire, Dorset and Hampshire, mainly at Salisbury District Hospital.
It is a specialist regional centre for plastic surgery, burns, cleft palate and genetics.
In its last CQC inspection report, in April 2016, the trust was rated as "requiring improvement".