Erlestoke jail riot: Two found guilty of prison mutiny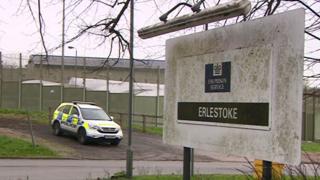 Two inmates who took part in a riot sparked by short-staffing and a ban on smoking have been found guilty of prison mutiny.
Luke Needham, 30, and Deno Harrison, 23, caused "many thousands of pounds worth of damage" during the riot at HMP Erlestoke on 11 June 2016.
A third prisoner, 41-year-old Andrew Alford, was found not guilty.
Needham, Harrison, and Ben Sharratt, 26, who previously admitted the same offence, will be sentenced on 16 March.
Jurors took just under three hours to deliver their verdicts at Winchester Crown Court.
'Very unpleasant'
Prosecutor Rob Welling had told the court tensions had risen after prisoners at the jail near Devizes were ordered to remain in their cells because of a shortage of prison staff.
This, combined with the trial of a national smoking ban, created an atmosphere that was "very unpleasant and threatening".
Some 120 prisoners had to be rehoused at prisons around the country following the riot.
The Prison Officers Association (POA) said they hoped for "hefty sentences" to deter future riots.
Those found guilty of prison mutiny can be jailed for up to 10 years.
An Independent Monitoring Board (IMB) report found a lack of experienced staff "remained a concern" a year after the riot, while use of the drug Spice was a "blight" within the Category C jail.
Meanwhile, a former officer told the BBC he took early retirement in 2016 because he and his colleagues feared for their safety.
Mark Fairhurst, national chair of the POA, said he was "disappointed" only three inmates were prosecuted.
"Prisoners deserve a safe environment as well as staff," he said.
"This could happen again at any prison. We need to get control, order and discipline back into the job - but that takes a lot of investment."
The Ministry of Justice did not comment on the result of the trial.