Recruitment agency sorry in 'non British' job gaffe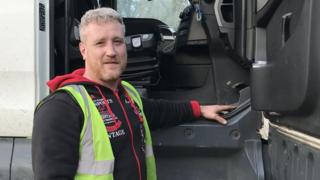 A recruitment agency has apologised to a man who was told he could not apply for a job "because he was British".
Michael Fowler, from Salisbury, Wiltshire, was going for a HGV driving job advertised by Wolverhampton-based recruitment company Blu Global.
When he did, he received an email from a company employee informing him their positions "exclude British candidates".
Since it was first reported in the Salisbury Journal, Blu Global has now apologised to Mr Fowler.
The 39-year-old cited his 12 years of driving experience when he applied for the job earlier this month but was astonished at the response.
Blu Global said it sent its "sincerest apologies for the appalling experience" adding it has taken disciplinary action against the individual responsible.
"We understand that you were informed by one of our European based freelance recruiters that the vacancy 'excluded' British applicants, this is not the policy of the company and we are shocked that this statement was ever made," the email said.
"No candidate is denied a chance of employment based on their nationality, age, race, gender or sexual orientation."
Mr Fowler said he has since got a job with another haulage company.