Stonehenge tunnel plans shown to heritage experts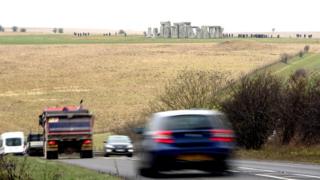 Heritage experts have been invited to Stonehenge to see updated plans for a 1.9-mile (3km) road tunnel at the site.
Unesco and the International Council on Monuments and Sites (ICOMOS) will look at ideas to prevent the A303 from splitting the site.
Highways England says one entrance has been moved to avoid conflicting with the winter solstice alignment.
It says the tunnel will also "remove the sight and sound of traffic... from the iconic monument".
Previously Unesco said a short tunnel could damage the World Heritage Site and a bypass above ground or a longer tunnel should not be ruled out.
But speaking on Twitter, campaigner Andy Rhind-Tutt said he was disappointed Highways England and the Department for Digital, Culture, Media & Sport had not invited landowners to a meeting with ICOMOS and Unesco this week.
Mr Rhind-Tutt, president of Salisbury Chamber of Commerce and Industry, added that while he accepted the A303 needed improvement, "spending £2bn on a Stonehenge tunnel to meet a tractor eight minutes earlier and remove a 5,000-year-old view... could be one of the government's most reprehensible government decisions ever".
Highways England project director, Derek Parody, said it had been working with heritage groups "to best develop the route to minimise the impact on Stonehenge and the surrounding landscape".
"These groups have been key, along with environmental, archaeological and geophysical surveys, to our building our knowledge and understanding of this unique landscape and helped us develop the design of our preferred route," he added.