Rolex watch 'could sell for £120,000' at Wiltshire auction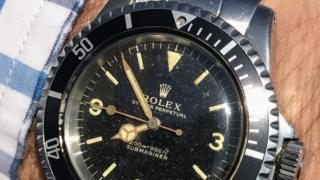 A rare Rolex watch originally bought for £69 could fetch £120,000 when it is auctioned off next month.
The Rolex Submariner 5513, purchased from a jewellery shop in Doncaster, is one of the few with a dial showing only the numbers three, six and nine.
These Explorer dials were normally replaced with a standard no number dial when they were serviced.
Auctioneer David Hare said: "What makes this watch particularly desirable is its condition."
"Because of their value, counterfeiters do attempt to fake these watches," he added.
"It's a stroke of luck that the owner of this watch never had it serviced.
"If he had, Rolex may have replaced the three-six-nine dial and the value of his watch would have dropped from over £100,000 to around £5,000."
The watch's value is also due to its provenance as it comes with its receipt and has been owned only by the person who bought it in 1966.
"It's very unclear how many still exist. I suspect there are owners out there who don't realise the significance of the Explorer three-six-nine dial," added Mr Hare.
Rolex designed its Submariner watch for use by recreational and professional divers.
The watch will be sold on 23 May along with more than 500 other lots at Gardiner Houlgate auctioneers in Corsham, Wiltshire.
Other watches being sold are a rare James Bond Rolex Submariner, with an estimated value of £12,000 to £18,000, and a Rolex Cosmograph Daytona estimated at £15,000 to £20,000.