'Significant weaknesses' found at Swindon children's services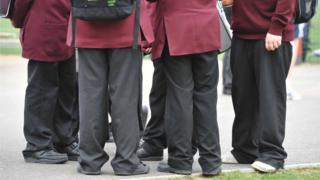 Children at risk of harm in Swindon are being failed, an Ofsted inspection has said.
Inspectors found "significant weaknesses" in the responses that children at risk received from the town's children's services.
They said senior leaders were "not fully aware of the severity of weaknesses" identified.
Swindon's cabinet member for children's services said she "welcomes Ofsted's input".
Ofsted last inspected the service in 2014 and judged it as requiring improvement.
Following a new inspection in April, Ofsted found:
The quality of decision-making when children were first referred for help or protection had declined
Significant weaknesses in the responses children received
Social workers did not always identify risk, and inspectors found some children at risk of harm
Senior leaders were not fully aware of the severity of weaknesses identified by inspectors during this visit
"Many decisions made by social workers and managers are not sufficiently swift and do not take account of all relevant information," the report said.
"In some cases seen by inspectors, opportunities to intervene had been missed, historically and recently."
Swindon Borough Council said the number of children in care had increased by a third from 252 in March 2014 to 359 at the end of March this year.
In February, its cabinet approved £7.5m in extra funding for children's services over the next two years.
Councillor Mary Martin, who took over as the cabinet member for children's services last week, said: "The findings of this two-day focused visit are helpful as we focus on improving this vital part of the service.
"We... will act on their assessment that the resulting changes are not yet embedded."