Prospect Hospice staffing levels 'put patients at risk'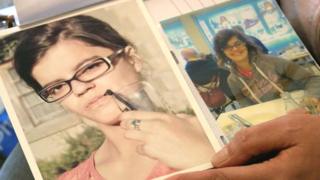 Low staffing levels and training issues at a hospice in Wiltshire put patients at risk of not receiving safe care, a report has said.
The Care Quality Commission (CQC) held an unannounced inspection of Prospect Hospice in Swindon amid concerns about staff numbers and complaints.
No rating was given but the hospice was issued with a warning notice for breaching social care regulations.
The hospice was rated good overall at its last inspection in 2016.
The CQC said when inspectors visited in February, the inpatient unit had a "high number of vacancies" and on nine occasions in January and February it was "insufficiently staffed" and that staff felt "demotivated and humiliated".
Deeply sorry
Speaking on BBC Wiltshire, Prospect chief executive Angela Jordan accepted the need for changes to be made: "I'm very disappointed... We'd taken steps and measures to close gaps around training and met with the staff to really get to the bottom of why they felt that way.
"I am deeply sorry that any of our existing patients or families would feel that we've let them down."
Before the report, the mother of a cancer patient said her daughter was left "screaming in agony" while waiting for pain relief because of a lack of nurses.
Catherine Palmer said Mary, 21, was left alone for long periods, leading her to wet the bed "which was very upsetting for her".
She said: "The nurses were very caring and very helpful, there just weren't enough of them." Mary died in hospital on 1 February.
Ms Jordan disputed Ms Palmer's account and said: "Our staffing levels at no point dropped to a point where that would be the case."
But she said she "deeply regretted any anxiety caused" and she was "genuinely sorry" Mary's family was unhappy with her standard of care.
Ms Jordan said staffing levels were "well above the norm" when she was admitted.
"We put the needs of patients at the forefront of every decision that we make," she added.
The CQC report said there were 53 medicine errors between August and February and not all nurses were trained in end-of-life care, which increased the risk of "unsafe treatment".
There was also no evidence 10 nurses carrying out catheter insertions and other procedures had completed required refresher courses.
The hospice cares for more than 6,000 patients, family members and friends a year.