Russian spy poisoning: Ambulance depot decontaminated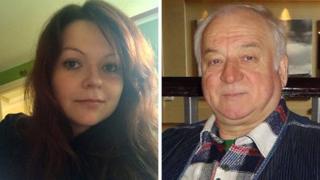 Decontamination of a second ambulance depot used in the wake of the nerve agent attack in Salisbury has finished.
Amesbury station crews were called in after Sergei and Yulia Skripal were found slumped on a park bench after being poisoned on 4 March.
Following the clean-up, the station has been handed back to South Western Ambulance Service by Defra.
It is the third site to be cleaned by specialists and returned to use. Two city centre sites remain cordoned off.
The Mill pub and Zizzi restaurant are still being cleaned as part of the investigation which has lasted nearly four months.
The Skripal house is also still under police investigation.
Defra said the release of the Amesbury site "marks further progress in Salisbury's ongoing recovery".
Alistair Cunningham, chair of the recovery coordinating group, said: "This is good news and further evidence that the clean-up process is effective and going well.
"With only two city centre properties still to be handed back, there is no doubt that the city centre is open for business and is safe for visitors and residents."