'Guinea pig' hip patient praises NHS on 70th anniversary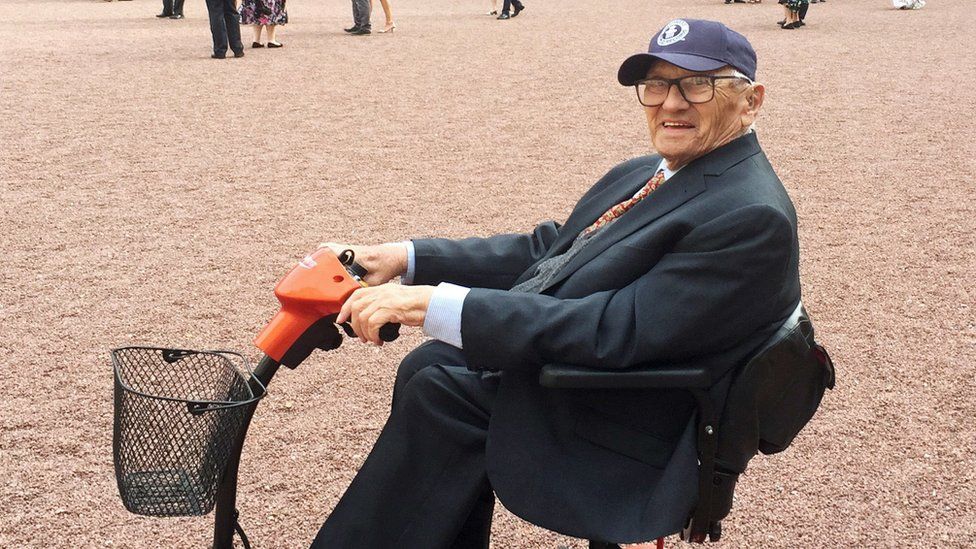 A 93-year-old man who holds the record for the longest-lasting hip replacement has said the NHS is the best thing to happen in his lifetime.
Norman Sharp, from Trowbridge, Wiltshire, believes he was one of the first ever health service patients to undergo the procedure.
Mr Sharp was 23 when he was chosen for the experimental surgery at the Royal National Orthopaedic Hospital in 1948.
The NHS marks the 70th anniversary since its inception on 5 July.
A modern artificial hip joint is designed to last for at least 15 years, according to the NHS.
Mr Sharp, a great-grandfather of 14, won a Guinness World Record as his left hip has lasted for nearly 70 years.
He said: "I can't believe it myself because today everybody is talking about replacement hips and knees and it is the operation of the century, that's what the doctors call it.
"I was a guinea pig, and I just feel happy that I was involved in people today having their pain looked at and eased as best the doctors can do."
Mr Sharp developed septic arthritis when he was five, which left him in severe pain and with difficulty moving.
He was transferred to Royal National Orthopaedic Hospital in Stanmore, London, where his hips were fused, leaving him unable to walk normally.
"And that's how I lived my life from 1931 to 1948." he said.
Mr Sharp had his leg straightened in 1939, but the treatment was suspended after war broke out.
Almost a decade later he was informed by the hospital he had been chosen for experimental surgery using a Vitallium cup, and eventually had both hips treated.
He said the treatment was so successful he has "never even had an aspirin for them. No pain, nothing".
Mr Sharp believes the creation of the NHS is "the best thing that ever happened in my lifetime".
Related Internet Links
The BBC is not responsible for the content of external sites.