Amesbury: Two collapse near Russian spy poisoning site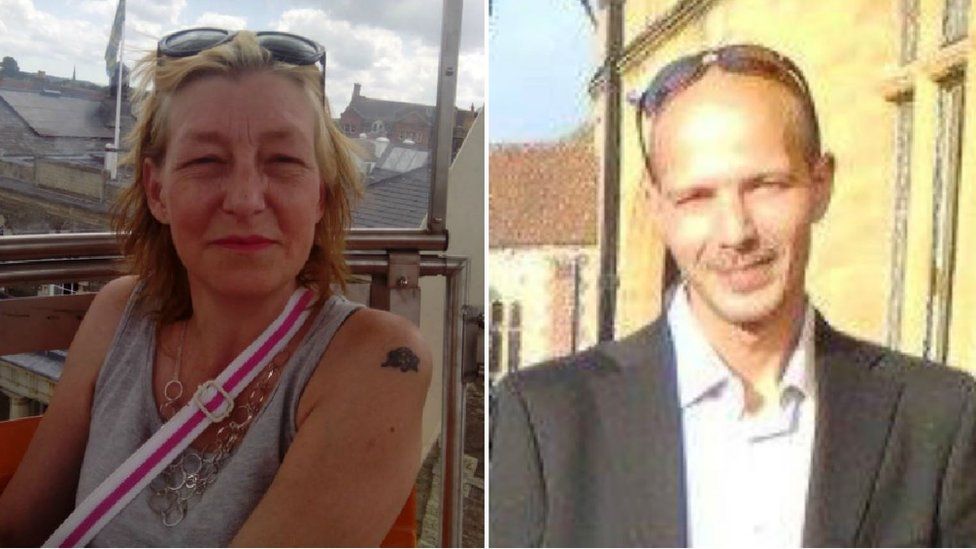 A man and woman are in a critical condition after being exposed to an unknown substance, which counter terrorism officers are investigating.
The pair, believed to be Charlie Rowley, 45, and Dawn Sturgess, 44, were found unconscious at a house in Amesbury, Wiltshire, on Saturday.
It is understood tests are being carried out on the substance at a government chemical weapons laboratory.
Amesbury is about eight miles from the Salisbury Russian spy poisoning site.
Former Russian spy Sergei Skripal and his daughter Yulia were poisoned with Novichok, a suspected military nerve agent, in March.
The substance Novichok was identified by the defence research facility at Porton Down, which is understood to be carrying out tests on the latest substance.
Investigators are trying to work out if the Novichok could have been prepared in Queen Elizabeth Gardens in Salisbury, and the Amesbury pair came into contact with its residue.
The government's emergency committee, Cobra, has met in the Cabinet Office at an official level to discuss the events in Amesbury, which is being "treated with the utmost seriousness".
A further meeting of the committee will be held on Wednesday evening to hear updates on the situation which was initially treated as a suspected drugs-related incident.
The Met said counter terrorism officers are now working with Wiltshire Police "given the recent events in Salisbury".
Wiltshire Police said it was "open-minded" about the cause after the pair, who are British nationals, were found at the house in Muggleton Road, Amesbury.
Paramedics were called twice to the property, firstly in the morning after Ms Sturgess had collapsed and then later the same day after reports Mr Rowley had also fallen unwell.
While it was not clear whether a crime had been committed, the force said, a number of places in Amesbury and Salisbury known to have been frequented by the couple had been cordoned off.
It said the public can expect to see an increased police presence in and around Amesbury and Salisbury.
"It was initially believed that the two patients fell ill after using possibly heroin or crack cocaine from a contaminated batch of drugs," Wiltshire Police said.
"They are both currently receiving treatment for suspected exposure to an unknown substance at Salisbury District Hospital," it added.
Mr Rowley and Ms Sturgess are believed to have attended a family fun day at Amesbury Baptist Church on Saturday afternoon before they were found unconscious in the property they had just moved into.
Roy Collins, church secretary, said "nobody else has suffered any ill-effects" from attending the community event and "there was nothing going on that was nefarious".
"There have been no reports of any other incidents," he said.
"We are all quite puzzled and shocked - naturally the connection with Salisbury and recent events there mean there is a heightened public interest."
Boots has closed its Amesbury store as "a precautionary measure" to allow police to carry out an investigation, a spokesperson confirmed.
At the scene: Charlotte Callen, Home Affairs Correspondent
Neighbours tell me the peace at this usually quiet new estate in Amesbury was broken at about 18:30 BST on Saturday evening.
It was hot and many were out having barbecues when they heard sirens and saw flashing lights as first ambulances, then the fire brigade and police arrived in Muggleton Road.
They saw seven fire engines and fire officers wearing hazmat suits at the scene. The house was cordoned off and the word here was that this was a suspected drugs overdose.
This morning many are in disbelief that this has been declared a major incident and that so many reporters from national media have descended on their doorsteps.
Two police cars and three officers are here as Wiltshire Police is yet again dealing with a major incident just a few miles away from where Sergei and Yulia Skripal were found.
Wiltshire and Dorset Fire Rescue Service said seven vehicles and two specialist ones had attended Muggleton Road on Saturday evening.
Crews in hazmat suits, which are worn to deal with dangerous or hazardous substances, were sent to the scene in what the fire service described as a "standard procedure response".
Chloe Edwards, a 17-year-old college student who lives near the cordoned-off flat, said she was having dinner when "all these emergency vehicles turned up" and was told to stay inside.
"They were putting on these green suits and we thought it was the gas as our electricity was turned off as well," she said.
"We wanted to know what happened and with the Russian attack happening not long ago we just assumed the worst.
"I am not sure how long they were in there but we couldn't get out of the house for two-and-a-half hours."
Resident Jake Murphy said he was watching the football on Tuesday night when "all these police cars appeared".
"I didn't know what was happening," he said.
Justin Doughty, who lives opposite the police cordon, said none of the residents have been "told anything by the police".
"We would have thought the police would have been more forthcoming and keep us in the loop."
A government source said: "Senior Whitehall officials are being kept informed of what is going on on the ground as we seek to establish the facts of this case.
"No definitive conclusions have yet been established."
Wiltshire's Police and Crime Commissioner Angus Macpherson said the police had worked hard at "containing any risk that might be there".
"There's no reason to think it's connected with matters of last month," he said.
"I haven't seen anything in this incident yet that I would consider to be an overreaction in terms of previous incidents, it all seems fairly textbook."
Public Health England said it did not believe there was a "significant health risk" to the wider public, although its advice was being continually assessed.
The hospital was "open as usual" and advised patients to attend routine appointments unless contacted and advised to do otherwise.
Related Internet Links
The BBC is not responsible for the content of external sites.