'Killjoys' remove England flag from Westbury White Horse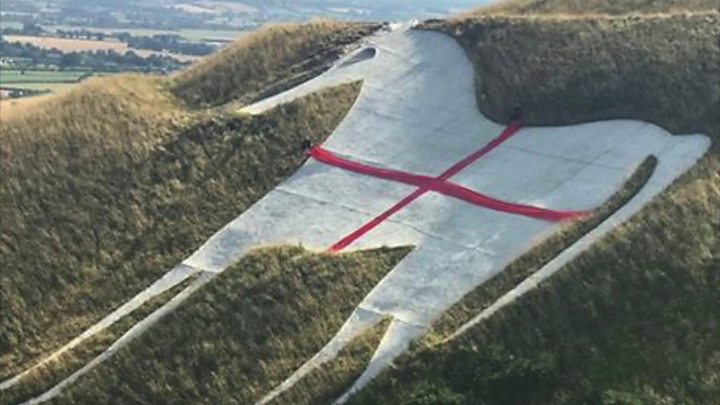 "Killjoys" who removed red plastic which turned the Westbury White Horse into an England flag have been criticised on social media.
The plastic is believed to have been put up by a football fan ahead of the England team's World Cup semi-final match against Croatia.
English Heritage said it removed the covering to make sure the 175ft (53m) tall landmark was not damaged.
Members of the public have criticised the move on a community Facebook page.
Maurice John Bizeray wrote: "They are doing no damage and think of the money coming to Westbury with people coming to see it. Killjoys. It is only concrete. Took you months to finally clean it."
Samantha Mitchell said football was "sadly" not coming home in Westbury because of a lack of a "sense of humour", adding: "What harm was it doing?".
And Jason White said: "In a time when there is so much bad stuff going on, a little smile on the face is all it needs."
The covering was removed by Westbury Town Council on behalf of English Heritage.
In a statement, English Heritage said it fully supports the England football team and wishes them well on Wednesday.
It added: "It's great to see people coming up with ingenious ways to show their support, but we do need to make sure that the Westbury White Horse is not damaged in the process."
Westbury's horse is said to be the oldest in Wiltshire. It was restored in 1778, but many believe it is much older than that.
It is thought to have been originally carved in 878 AD to commemorate King Alfred's victory over the Danes at the Battle of Ethandune.