Army pauses Salisbury Plain live firing exercises after fire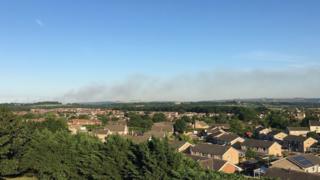 The Army has paused live firing exercises on Salisbury Plain until further notice, the Ministry of Defence has confirmed.
A fire sparked by the exercises has created a smoke plume which can be seen 40 miles away in Somerset.
The military training, using high-explosive ammunition, has now been temporarily stopped, the MoD said.
Alarms have been triggered by the smoke while a stretch of the A360 was closed temporarily due to poor visibility.
A large number of calls have been made to the three fire services which cover Wiltshire, Somerset and Bath.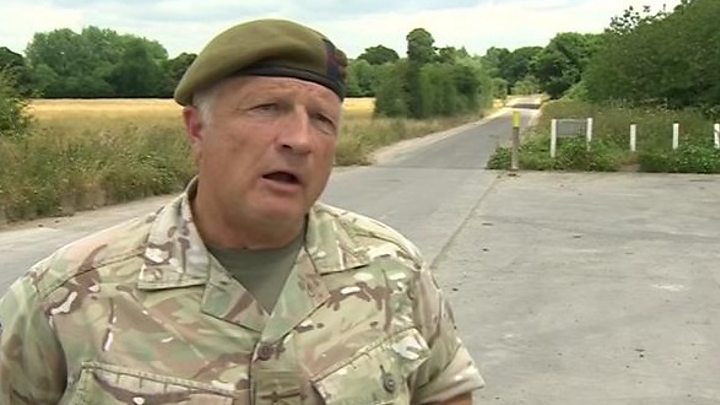 Dorset and Wiltshire Fire and Rescue Service said it received "dozens" of 999 calls overnight, and responded to "multiple" incidents when alarm systems were triggered by smoke.
A spokesman said that because the fire was within the live firing range crews were unable to tackle it.
Devon and Somerset Fire and Rescue said smoke had spread as far as Frome, Shepton Mallet and Wells - which is over 40 miles from the training area.
The MoD spokesman said: "We have reviewed the risks of continuing live firing on Salisbury Plain training area and have made the decision to cease artillery live firing until further notice."
They added that fire wardens were monitoring the site and "if the flames start to spread outside of that area, we can bring in the Fire and Rescue Service to assist".
"We fully appreciate the inconvenience caused to the communities in and around the Plain," the spokesman said.
"The fire itself is not a risk to property, but we do recognise that the smoke is very unpleasant."
As Salisbury Plain is owned by the Army, the fire service can only put out fires which spread to the edge of the training zones.