Swindon stabbing was 'targeted attack', say police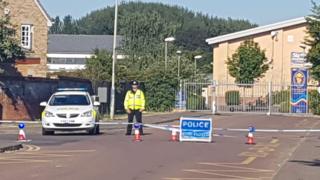 A man in his 20s has been stabbed in what Wiltshire Police believe was a targeted attack involving a group of people who were known to each other.
Armed officers are now trying trace the suspect who is believed to be in the Grange Park area of Swindon.
Det Insp Helen Jacobs said: "We are still trying to piece together exactly what happened last night, but at this stage we have a suspect we are trying to find and arrest."
The victim is in a stable condition.
Detectives said they were called to investigate after the victim arrived at the hospital with the stab injuries just after midnight on Sunday.
"You may see armed officers throughout the morning, and potentially into this afternoon.
"I want to reassure the public that this is a contained incident and we are simply using this resource to find our suspect as quickly and safely as possible," added Ms Jacobs.
Witnesses are asked to come forward.