King Edward VIII's watch fails to sell at auction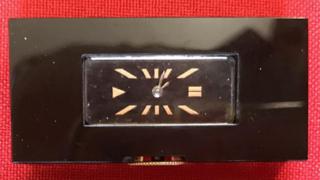 A pocket watch, which was once given to King Edward VIII by his lover Wallis Simpson, has failed to sell at auction.
The onyx Cartier timepiece, which was given to him in April 1936, had a guide price of £25,000 at Henry Aldridge and Sons in Devizes, Wiltshire.
Auctioneer Andrew Aldridge said "there has been a declining interest in royal memorabilia" in recent years.
He said the "fervour" for royal items no longer exists, and "people invest their money in other things now".
The watch had originally been sold in a sale of the duchess's belongings in Geneva in 1987, a year after she died.
Mr Aldridge said the watch, which was given to the king a few months before his abdication, represented "a small but important part of "one of the most controversial love stories of the 20th Century".
"It was a personal gift from Wallis to Edward in Easter 1936, which was the only Easter he was king.
"It is important on many levels, first and foremost is its provenance and the fact that it was given to Edward during that short period he was king by the most important person in his life who he sacrificed everything for.
"Their relationship caused the constitutional crises that resulted in his abdication only months later and this is a tangible piece of history from that time."
The watch's winding crown is inscribed "Easter 12/4/36" and the cypher of Edward VIII is depicted on the back.
Following his abdication, Edward married Ms Simpson in June 1937 and the couple became the Duke and Duchess of Windsor.
He died in 1972 and she died in 1986.
Other items that once belonged to Simpson, including a gold pencil holder, a pocket magnifying glass and a writing set, also failed to meet their reserve prices.