Scarecrows used to stop speeding drivers in Wiltshire village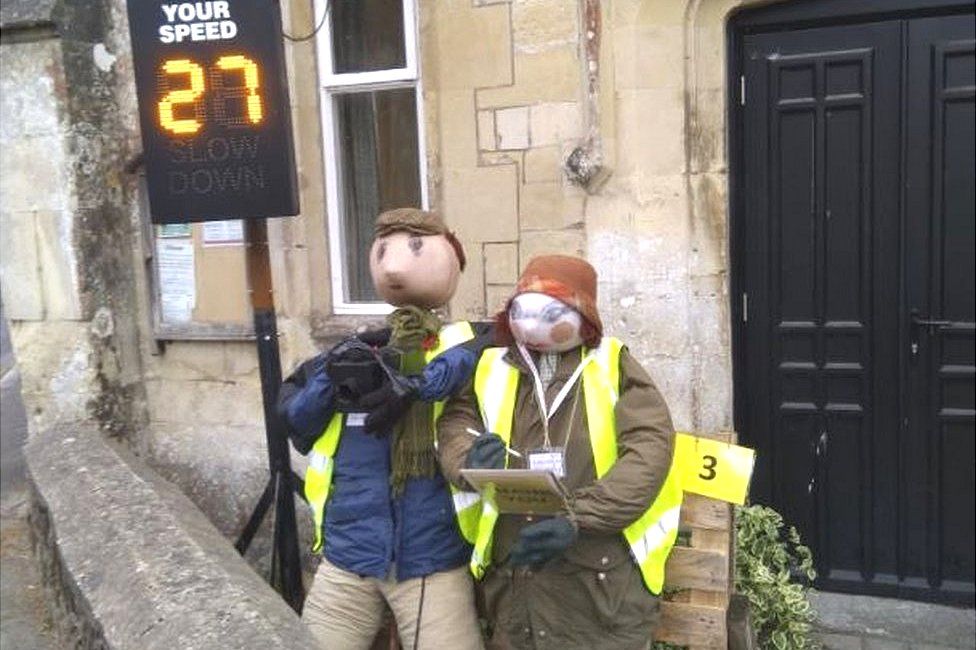 A pair of scarecrows are being used to slow down speeding traffic through a village after police would not allow real volunteers to be based there.
The community speedwatch project erected the figures after being told it could not have a volunteer outside Hindon village hall in Wiltshire.
The scarecrows wear high-visibility jackets and hold a fake speed gun.
Wiltshire's Police and Crime Commissioner said the location did not "meet force criteria".
Campaigners said motorists had been recorded driving at more than 60mph in the 30mph zone through the village.
Frank Freeman, from the speedwatch scheme, said he had been "frustrated" at not being able to place volunteers at the site.
"In other parts of Hindon where we operate, in an hour we can easily report 10 speeders to the police, especially during rush hour," he said.
"We have people driving down the high street in excess of 60mph. That's just not acceptable."
Mr Freeman said police had told him the village hall did not meet the criteria for an approved speedwatch location because the average speed there was not fast enough.
He said the scarecrows, which also form part of a village scarecrow competition in the village, near Warminster, had made motorists slow down.
Wiltshire's Police and Crime Commissioner, Angus MacPherson, said: "We were aware, before the scarecrows arrived, of a strong feeling among the volunteers that they would like to base themselves at that particular spot in the high street.
"I'm advised by crime prevention officers that Mr Freeman's preferred location does not meet the force criteria."
He said traffic movement counts and data from a speed indicator had been used to reach the decision.
He added there had been only one serious injury in the village in the past three years and that was "some 30m from the junction in question".
Related Internet Links
The BBC is not responsible for the content of external sites.