Stonehenge A303 parking sparks safety review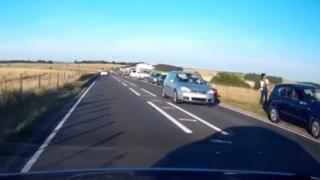 Parking rules at a busy road near Stonehenge are being reviewed after motorists started pulling over on a verge to get views of the monument.
Wiltshire Council has temporarily shut several rural tracks alongside the A303 which were often used for parking.
Images surfaced on social media of motorists parking on the roadside, sparking concerns over safety.
"We are reviewing our traffic orders ...to ensure the safety of all road users," Highways England said.
The minor routes - or byways - which are close to Stonehenge do not have tarmac surfaces.
It is legal to drive a car along them but they are more regularly used by walkers and horse riders.
Wiltshire Council said it shut the routes for 18 months to "prevent damage" to them.
Salisbury Chamber president Andy Rhind-Tutt tweeted pictures of cars parked alongside the main road and said it should now be made a clearway, a section of road where it is illegal to stop except in an emergency.
Bridget Wayman, cabinet member for highways said the "experimental orders will help improve safety for people using the byways".
"The orders will also prevent further damage to the byways and the adjoining World Heritage Site and preserve/improve the experience around Stonehenge for visitors now and in the future."
English Heritage added that "limiting of vehicular access to the byways and removal of the semi-permanent line of unsightly stationary high-sided vehicles, will benefit the setting of Stonehenge and the wider landscape".
"It will remove a significant visual intrusion, reduce physical damage to archaeology, and encourage exploration of the landscape on foot."
"The byway was not a car park and should not have been used as such."
The government says it wants to build a tunnel past the route and permanently cover the A303 but some archaeologists and historians have strongly objected to the plan.