Nazi memorabilia sold at event on National Trust land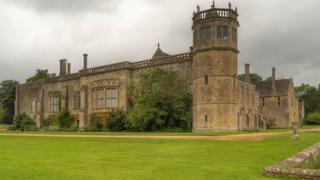 A Jewish woman has spoken of her fear after seeing people "dressed in SS officer uniform" at a living history event on National Trust land.
Nazi items were also sold at the West Wiltshire Military Vehicle Trust (MVT) event and an original Star of David arm patch Jews had to wear was on display.
The woman said: "They were also selling reproduction berets with the SS skulls on them and the Third Reich emblem."
John Wardle, from the MVT, said the items were on sale legally.
The National Trust has warned the charity not to do it again.
'Terrifying'
The matter came to light when the woman attended the event at the village playing field leased to the parish council by the National Trust.
Speaking to the BBC, Amanda, 30, from east London, said: "I felt a fear raging inside of me, there was a moment when I caught sight of two men dressed in SS officer uniform, the full black regalia and that's when I broke down.
"I had to sit down and I couldn't contain my emotion.
"It was pure fear, I actually never encountered or made this connection. It was quite a terrifying experience made worse by the fact that nobody else seemed to be affected."
'Fascist fetishism'
She told The Sun newspaper she cried when she saw people in German military uniforms from the Second World War.
"It was fascist fetishism," she said. "People were posing with these 'soldiers'."
The 30-year-old said no-one from the National Trust had contacted her, although she had left her details with them.
"This is a gruesome part of history and it needs to be handled with care and there needs to be a duty of care to people attending these events," she added.
"My descendants are from Europe, and although I don't know by name who perished, I am sure members of my family did die in the Holocaust."
Seventh year
About 8,000 people attended the Lacock at War event, which is in its seventh year.
A National Trust spokesman said: "The event was organised by the Military Vehicle Trust and included uniforms and materials, which understandably caused distress and led to a complaint.
"We will make it very clear to the MVT that these displays were insensitive, unacceptable and should not be repeated."
He added the Trust had no direct involvement in the event.
John Wardle, secretary of MVT, said "One of the traders was selling Nazi memorabilia. There's nothing illegal about selling Nazi memorabilia.
"There were no Nazis at the event - there were people dressed in German uniforms but they weren't Nazis."
Mr Wardle added there had been no complaints in the past.