Salisbury Novichok 999 vehicles buried near Cheltenham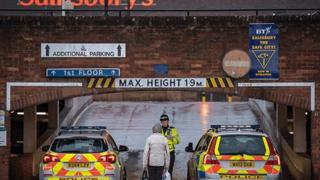 A number of vehicles which were used in the response to the Salisbury Novichok poisoning have been buried at landfill.
Defra said the "potentially contaminated items" were taken to a site at Bishop's Cleeve near Cheltenham before "being disposed of safely".
A spokesman said the secure burial of the vehicles posed "absolutely no risk" to the public.
Sergei Skripal, 66, and his daughter Yulia, 33, were poisoned with the nerve agent in March.
Then, on 30 June, Dawn Sturgess and Charlie Rowley fell ill at a house in Amesbury, about eight miles from Salisbury.
Police said they were exposed after handling a contaminated container - which is now believed to have been a perfume bottle.
Ms Sturgess died in hospital on 9 July. Mr Rowley was discharged from hospital on 20 July.
All the affected vehicles had been kept in secure storage and as they are released from the investigation they are being sent to landfill.
The precise number has not been released but it is understood the figure will increase as the probe continues.
The Defra spokesman said once the contaminated sites were safe they could be returned to use, "and Wiltshire can get back to normal".
The Skripals were found collapsed on a bench in the Maltings shopping centre in Salisbury, prompting a massive police and military investigation.
Ms Skripal and her father were discharged from Salisbury District Hospital in April and May respectively, following treatment.
A number of the locations victims visited, including Queen Elizabeth Gardens and land close to the Maltings shopping centre, have been decontaminated and handed back to the city.