George Harrison's Beatles guitar sells for £347,000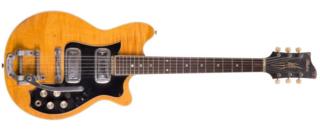 A guitar used by George Harrison at the Beatles' last appearance at Liverpool's Cavern Club has been sold at auction for almost £350,000.
The Maton Mastersound MS-500 was played on stage at several shows during July and August 1963.
The guitar used by Bee Gee Maurice Gibb to compose the band's first disco hit, Jive Talkin', was also sold for £8,680.
Luke Hobbs, from Gardiner Houlgate auctioneers in Wiltshire, said the sale of Harrison's guitar was "fantastic".
It was bought for £347,200 including buyers fees by a collector from overseas, at the sale of guitars and music memorabilia.
Mr Hobbs said the Australian-made guitar was used by Harrison after he had originally borrowed it from a guitar shop in Manchester while his own Gretsch guitar was being repaired.
"There are photographs of him playing it live on stage," he said.
"The most poignant (show) being the last ever Cavern show the Beatles did, because it was the rise of Beatlemania and they outgrew the venue."
Maurice Gibbs' Gibson J45, signed by all three Bee Gees, was originally given away as a prize on Bruno Brookes' Radio 1 show in 1987.
He famously wrote Jive Talkin' after driving across a bridge in Florida and hearing the rhythm made by the car's tyres on the road surface.
The song helped propel the Isle of Man-born trio to chart dominance in the late 1970s,